from Katyfraise
Another game featuring that adorable cat, Jiji. In this game, the trick is get the falling eggs into the proper baskets.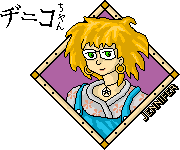 (Self-extracting Windows zip file, size is 551k. Windows 95 only!)
This game has been repackaged to eliminate some files that are difficult to deal with under Windows 95. The original archive can be obtained from Katyfraise's product list and is called JEGG956.EXE.
---
If a link on this page doesn't work, press here: IT'S BROKEN!! Tell us the URL of the page and let us know what is wrong.
Original art © 1996,1997 by Jennifer Diane Reitz
---