from Compile
This is another game from Compile, this one being featured on Disc Station volume 15. This one level game is basically a shooting gallery wrapped in a story. Of course, the story is in japanese so you get to make up the words yourself as you watch. The object of the game is to prevent the evil shark from making mincemeat of the kind and noble robots. Using the mouse, you control a gun site. Click the left mouse button to shoot the targets. All targets are game. Don't let the leaping fish distract you from shooting the egg bombs! Fast and furious with unexpected voice effects. Use Alt-F4 to exit.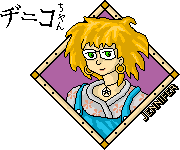 (Self-extracting zip file, size is 4321k.)
---
If a link on this page doesn't work, press here: IT'S BROKEN!! Tell us the URL of the page and let us know what is wrong.
Original art © 1996,1997 by Jennifer Diane Reitz
---