by Frieve
Kill the monsters for the gold, trade in the gold for items and magic to kill more monsters to get more gold, etc. This is harder than it looks and it looks beautiful. Arrows move left and right, space jumps, control key swings. Up/down arrows cycle through magic.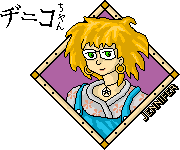 (self-extracting zip file, size is 935k.)
(Windows 95/NT only! (maybe Win32s under Windows 3.1))
---
If a link on this page doesn't work, press here: IT'S BROKEN!! Tell us the URL of the page and let us know what is wrong.
Original art © 1996,1997 by Jennifer Diane Reitz
---