from Compile
This is another delightful game from Compile. In this one, you play the parent Tanuki who has to catch the falling kids while dodging viciously-thrown flower pots. Meanwhile you have to leap over frogs who are simply trying to get to the other side of the screen. At least they don't have to worry about falling flower pots. Too many pots in the head and it's game over, dude!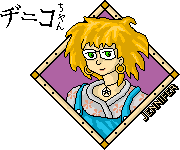 (Self-extracting zip file, size is 574k.)
---
If a link on this page doesn't work, press here: IT'S BROKEN!! Tell us the URL of the page and let us know what is wrong.
Original art © 1996,1997 by Jennifer Diane Reitz
---