by Bio-100
This deceptively simple-looking game will have you in tears of frustration until you get the hang of it. The object is to land the kids on the surface using the arrow keys for direction and the space bar for jets. Since the kids are moving at mach 7 (or some such ridiculous speed), your reactions are measured in the milliseconds. That's what makes this game challenging.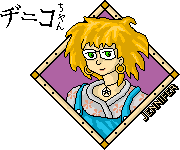 (Self-extracting Windows zip file, size is 120k)
---
If a link on this page doesn't work, press here: IT'S BROKEN!! Tell us the URL of the page and let us know what is wrong.
Original art © 1996,1997 by Jennifer Diane Reitz
---