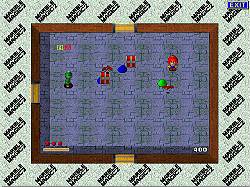 Marble Magic 2
Shoot and pick up the pieces.
A woman's job is never done!
---

by Rats
This game is essentially a version of Smash TV (if you remember that game from the arcade and SNES) but with much cuter graphics. However, it has all the white-knuckle excitement. You guide the girl hero through a maze-like dungeon of separate rooms and floors. Each room contains monsters that have to be destroyed, leaving behind chests. Bump into the chests a lot to open them. A key will open all the doors in that room. There are various weapon and other upgrades as well. The ghostly matrix hovering in the upper left corner is a grid map of the rooms you have visited. Works with keyboard (arrow keys to move, 'Z' or space bar to shoot) or joystick. Note: 'X' is the smart bomb of which you have a limited supply.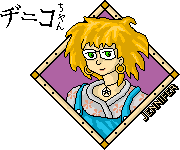 (9/7/1998: self-extracting file, size is 1799k. Windows 95/NT only!)
(Must be run in 256 color mode only! A dialog with the number 256 will appear to warn you if you are not in 256 color mode.)
---
If a link on this page doesn't work, press here: IT'S BROKEN!! Tell us the URL of the page and let us know what is wrong.
Original art © 1996,1997 by Jennifer Diane Reitz
---