by Keniti Makamura
This is vollyball on the computer. "How is that possible" you ask? Well, in the window of the program, you see some nicely-done black-and-white animation of someone ready to serve a vollyball. Click the button marked Click! and the ball is tossed up. Click the button again at the right moment and the ball is served. You see the ball returned and then bumped by #8 (your character). Immediately after bumping the ball, click and hold the mouse button to run up to the net for the smash. Let go of the button to leap up for the smash. Click again at the right time to smash the ball! If your timing is good, you will put the ball in the opponent's corner where they can't hit it and you win! If you don't time it right, you get to do the whole bump-set-smash thing all over again until you do. Bloody addictive!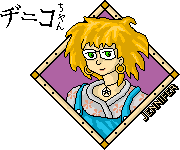 (9/13/1998: self-extracting file, size is 341k.)
---
If a link on this page doesn't work, press here: IT'S BROKEN!! Tell us the URL of the page and let us know what is wrong.
Original art © 1996,1997 by Jennifer Diane Reitz
---