This is one of the most intriguing takes on Tetris we have ever seen. Blocks of multiple colors drop one at a time. Rotate the colors around the block to touch the same color on a resting block. This causes the colors to be removed and the remaining colors in both blocks to redistribute evenly. If the number of colors in a block is reduced to one then the block is removed. Cascade effects are then possible. Some block edges are "walled" so they won't touch other colors. Causing a redistribution of the colors can make a color extend beyond this "wall" so it can be removed with another block. Occasionally a little tiny block of gray will drop. When it comes to rest on a color, that color is removed from all blocks. It plays easier than it reads.
For one to three players. There is a vs. mode in which the more combo hits you do, the more crud you drop on the other players. Keyboard only.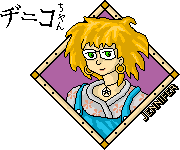 (Self-extracting archive file, size is 479k. Run PACKAGE.EXE to play. Run Setup.exe to install into new directory with an icon for double-clicking on.)
---
If a link on this page doesn't work, press here: IT'S BROKEN!! Tell us the URL of the page and let us know what is wrong.
Original art © 1996,1997 by Jennifer Diane Reitz
---