by Frieve
This game is a variation on Poco-ban (Poco-Man in the U.S.A.). The goal is to push the colored balls into each other to get them to go away. However, only like-colored balls can be removed this way. If the colors don't match, the balls change color. And you thought Poco-ban was hard! More mind-mangling fun from Frieve. There is a readme.txt file that explains the mechanics of the game.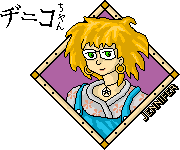 (self-extracting zip file, size is 344k. Windows 95/NT only!)
---
If a link on this page doesn't work, press here: IT'S BROKEN!! Tell us the URL of the page and let us know what is wrong.
Original art © 1996,1997 by Jennifer Diane Reitz
---