This is an overhead shooting game where you fly the most advanced ship in the fleet against the hordes of enemykind. Your secret weapon is a shield that can reflect certain kinds of enemy shots back on the enemy. This game is very pretty with lots of pastel colors. It does require a pretty fast CPU and Windows 95 (on a Pentium 90, this game is a bit choppy. Also, 256 color mode is best for performance reasons). Interestingly enough, this program doesn't require DirectX!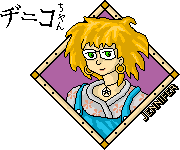 (Self-extracting zip file, size is 1,585k. Win95 only!)
---
If a link on this page doesn't work, press here: IT'S BROKEN!! Tell us the URL of the page and let us know what is wrong.
Original art © 1996,1997 by Jennifer Diane Reitz
---