This is a game in which you move the Fox on the board to the green exit cone. There are blocks and there are dice. If you run into the dice, they roll. If you can get two dice together that have the same values on all sides, the dice disappear. You can also push the dice without rolling them. This is much more difficult that you might imagine, especially if you don't roll the die in the right direction or the right number of steps. The game includes an editor!
Although the game is in japanese, you don't need to read it to play. Also, there is a septfox.doc file in English which describes how to play the game and use the editor.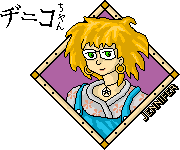 (7/18/1998: self-extracting file, size is 675k. Windows 95/NT only. Requires Direct X)
---
If a link on this page doesn't work, press here: IT'S BROKEN!! Tell us the URL of the page and let us know what is wrong.
Original art © 1996,1997 by Jennifer Diane Reitz
---