Skuld Bug
I could really use this in my programming!
---

by Yone(?)
This is an amazing little game. You control Skuld as she bashes "bugs". Sounds simple enough but when the bugs start showing up three, four, even five at a time, things start to get hectic. And when the going gets really tough, grab an ice cream to get an extra life. Supports keyboard, joystick, and mouse (you activate the mouse by checking the second option on the first menu). This game even has a full-screen mode. Please note that this game is in Japanese but you really don't need to know the language to play. Just move Skuld back and forth with the arrow keys, push the up arrow key to make her jump and press the space bar to bash a bug!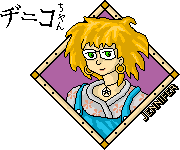 (9/7/1998: self-extracting file, size is 450k. Windows 95/NT only!)
---
If a link on this page doesn't work, press here: IT'S BROKEN!! Tell us the URL of the page and let us know what is wrong.
Original art © 1996,1997 by Jennifer Diane Reitz
---