by C. Smith
Question: how do you go about debugging the universe machine? Answer: with a Hammer! In this fast game, you help Skuld (from Oh! My Goddess!) do what she does best, smash bugs! The music is good and the action is furious!
Press F1 during the game to read the documentation. The key for changing the game controls is Ctrl-Y, not Ctrl-C as it says in the documentation.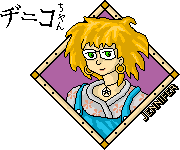 (self-extracting zip file, size is 645k. Select the option to Run After Extraction the specified file to finish the setup.)
---
If a link on this page doesn't work, press here: IT'S BROKEN!! Tell us the URL of the page and let us know what is wrong.
Original art © 1996,1997 by Jennifer Diane Reitz
---