from NITRO
This is a puzzle game and beautifully done too! You are a little snowman that has to get back to the warmth(!) of your house. Unfortunately, there are a whole bunch of different sized snowballs in the way. The object of the game is to push the snowballs out of the way -- but in the right order! You see, there are four sizes of snowballs: small (1), medium (2), large (3), and jumbo (4). Push the snowballs into each other until they reach jumbo. You cannot push the jumbo snowballs around. This one is a brain-twister. There is even an editor! There is a snow32.txt file in English for the game itself.
Note: This appears to be shareware but I can't read the instructions (they are Japanese).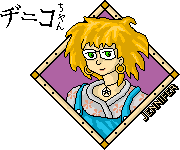 (9/13/1998: self-extracting file, size is 511k. Requires Win95/NT!)
---
If a link on this page doesn't work, press here: IT'S BROKEN!! Tell us the URL of the page and let us know what is wrong.
Original art © 1996,1997 by Jennifer Diane Reitz
---