from ABA Games
This is a most unusual game: you are controlling a brush stroke, guiding through rapidly appearing brush strokes creating kana and other brush designs. Hit a black brush stroke and you wipe out! Object is to complete the obstacle course in the shortest time without wiping out. Uses the up and down arrows to control direction, right and left arrows to control speed. F2 starts game. F3 pauses game.
Note: The archive has been modified to be self-extracting and to automatically launch the setup program. This is a typical InstallShield installation even though you may not be able to read the dialogs. When you go to uninstall this program, its name will appear as two nonsense characters (the second of which is the Japanese yen character) in the Add/Remove programs list.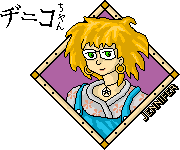 (9/13/1998: self-extracting file, size is 795k. Requires Win95/NT!)
---
If a link on this page doesn't work, press here: IT'S BROKEN!! Tell us the URL of the page and let us know what is wrong.
Original art © 1996,1997 by Jennifer Diane Reitz
---