from yoshix
This is a beautiful side-scrolling shoot-em-up with that anime look! Supports keyboard and joystick. Separate executables for 16-bit (Windows 3.1+) and 32-bit Windows (Windows 95).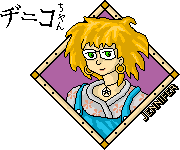 (Self-extracting Windows zip file, size is 285k)
---
If a link on this page doesn't work, press here: IT'S BROKEN!! Tell us the URL of the page and let us know what is wrong.
Original art © 1996,1997 by Jennifer Diane Reitz
---