Your ship is at the bottom of the field of stars and Things are coming your way! Shoot the Things with the appropriate shot and they will go away (for points of course). Use the wrong shot and the Thing will shoot back! Even the stars themselves don't like to be hit with the wrong shot! Mouse control.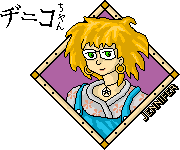 (self-extracting zip file, size is 138k. Windows 95/NT only!)
---
If a link on this page doesn't work, press here: IT'S BROKEN!! Tell us the URL of the page and let us know what is wrong.
Original art © 1996,1997 by Jennifer Diane Reitz
---