by Bio-100
This is your basic game of Depth Charge but beautifully implemented. Move your ship left and right and drop depth charges on all the subs below. Sink them before they sink you and they have more to throw at you too! Catch a fish's prize and release an air barrage!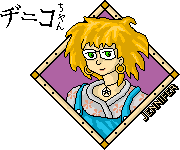 (Self-extracting Windows zip file, size is 397k.)
(For Windows 3.1+, requires WaveMix and WinG)
---
If a link on this page doesn't work, press here: IT'S BROKEN!! Tell us the URL of the page and let us know what is wrong.
Original art © 1996,1997 by Jennifer Diane Reitz
---