This hentai solitaire game is actually a playable demo. If you win, one of the four ladies you are playing poses rather provocatively. The rules are basically that of UNO.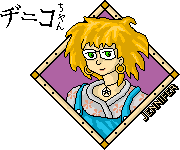 There is some nudity in this game. PARENTS BE WARNED!
(Self-extracting Windows zip file, size is 1,933k)
Now available: Andre Pla▀meier's english Windows help file

Explains how to play in plain English!
Includes screen shots to help you identify the cards.

(self-extracting zip file, size is 75k.)
---
If a link on this page doesn't work, press here: IT'S BROKEN!! Tell us the URL of the page and let us know what is wrong.
Original art © 1996,1997 by Jennifer Diane Reitz
---