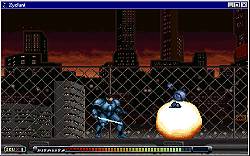 Zyclunt!
Hack and Slash Robots with your Sword!
---

This is a one level playable demo of a game that was to come out in America in 1997. Straightforward side-action game in which you control a character that wields a wicked sword! Slash your way through walking and flying robots and/or armored men as you attempt to reach and defeat the enormous boss! This game is a full-screen, Direct X program with a high level of arcade-style detail. It is a very well done game if a little one-dimensional in its plot (kill or be killed).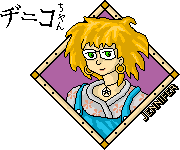 (Self-installing file, size is 3,444k. Includes Direct X)
---
If a link on this page doesn't work, press here: IT'S BROKEN!! Tell us the URL of the page and let us know what is wrong.
Original art © 1996,1997 by Jennifer Diane Reitz
---